Posted: Wednesday October 26, 2016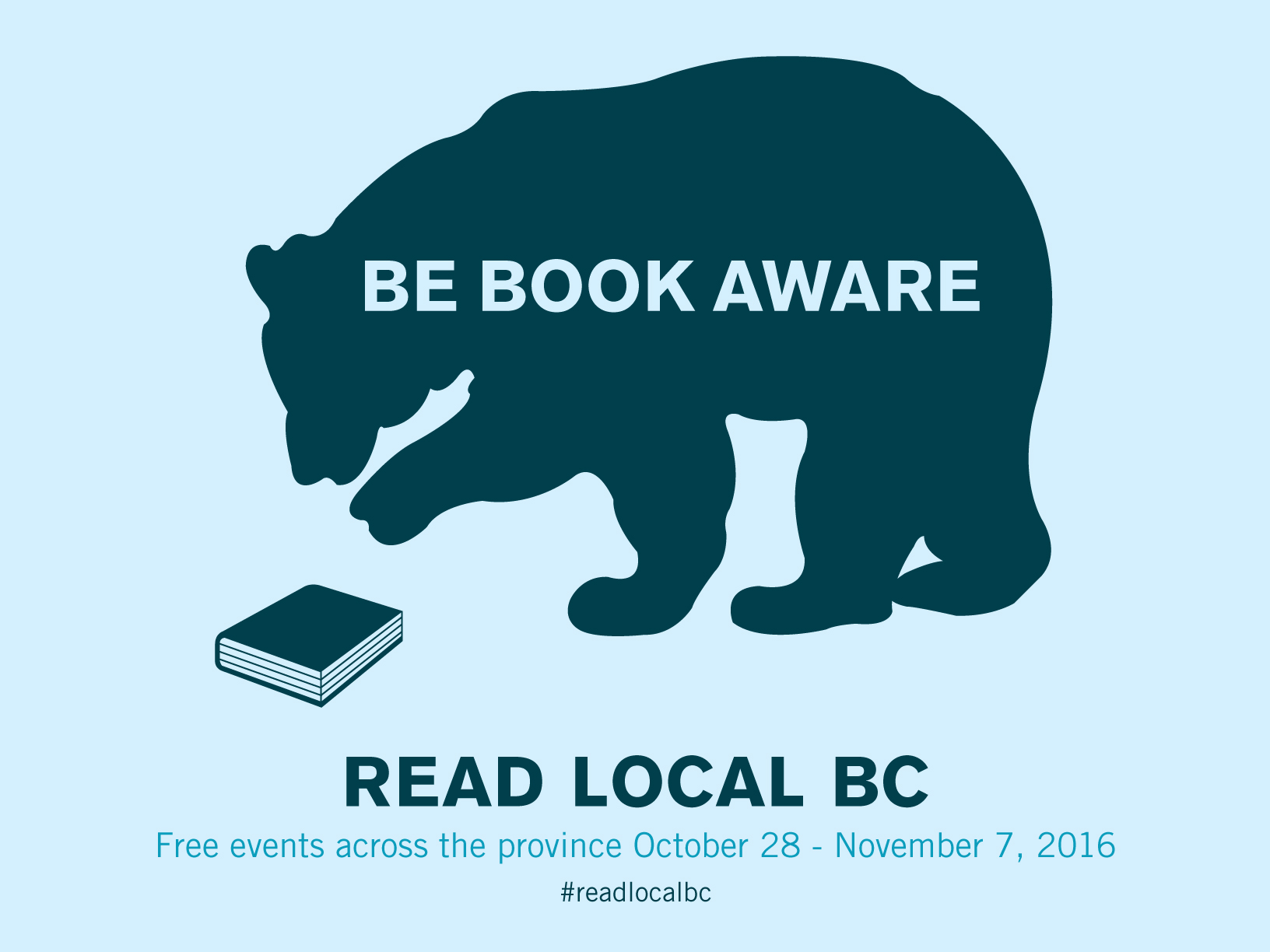 From October 28 through November 7, 2016, readers across British Columbia can discover locally published books and meet authors resident in their communities through a range of activities in bookstores and libraries throughout the province. Below is a list of Read Local events. You might wish to add these to your calendars!
An Intimate Evening with Vancouver Poets
Tuesday, November 1, 7 p.m.
Pulpfiction Books, 2422 Main St, VANCOUVER, BC
Facebook event page
Secrets and Stories from British Columbia
Tuesday, November 1, 7 p.m.
Russell Books, 734 Fort Street, VICTORIA, BC
Facebook event page
An Evening with Okanagan Authors
Wednesday, November 2, 7 p.m.
Mosaic Books, 411 Bernard Ave, KELOWNA, BC
Facebook event page
Writing the Body
Wednesday, November 2, 7 p.m.
Book Warehouse 4118 Main St, VANCOUVER, BC
Facebook event page
Vancouver's Histories and Mysteries
Thursday, November 3, 7 p.m.
Book Warehouse 4118 Main St, VANCOUVER, BC
Facebook event page
Turning Back Time
Monday, November 7, 7 p.m.
Bolen Books, 111-1644 Hillside Ave, VANCOUVER, BC
Facebook event page
Our Natural World
Monday, November 7, 6–8 p.m.
Salt Spring Library, 129 McPhillips Ave, SALT SPRING ISLAND, BC
Facebook event page
Recent news Articles
Thursday March 23, 2017 in Meta-Talon
Critically acclaimed poet and Vancouver native Adeena Karasick was in her hometown last month to celebrate the donation of her archive to Simon Fraser University. The Collection of Contemporary Literature at SFU's Bennett Library contains one of the biggest selections of avant-garde poetry in North America.
Friday March 17, 2017 in Meta-Talon
In Which Caspar Tootsey Joins the Phantom Cavalry
All the main characters in this novel are invented, except one. All the towns are real, except for New Babylon. But if such a place were to be imagined, it would be a Wild West town where gunfights are fair play and the law bans only the lawman. It is a perilous place, where the beauty of the desert landscape takes your breath away with the same power as an open blade and a gash to the throat.
On that gruesome note, we hope you enjoy this teaser, lifted from pages 36–38 of In Search of New Babylon.
Thursday March 2, 2017 in Meta-Talon
Today is Annual Day: A Very Short Story
Today on Meta-Talon, please enjoy a very short story from M.A.C. Farrant's book The Days: Forecasts, Warnings, Advice.
Annual Day
Annual Day happens once a year and it is never good. This year the date is March 2.
Thursday February 23, 2017 in Meta-Talon
Book List: Migration and Multiculturalism
Migration – the movement of humans from one place to another with the intention of settling – has been top of mind in recent weeks given certain political changes and policy implementations in certain western countries, in recent months in response to the failure of state in Syria and the outflow of refugees from that region, and in recent years characterized by a heightened sensitivity to the possibility of east-west terrorist attacks. Perhaps Canada is a beacon to other states? Or perhaps we still have much learning to do? In the spirit of learning, we recommend twelve Talon books on the topic of migration, refugees, and the immigrant experience.
We gratefully acknowledge the financial support of the Canada Council for the Arts; the Government of Canada through the Canada Book Fund (CBF); and the Province of British Columbia through the British Columbia Arts Council for our publishing activities.
---
If you have any questions or comments about this website, contact the
webmaster.