Posted: Wednesday June 22, 2016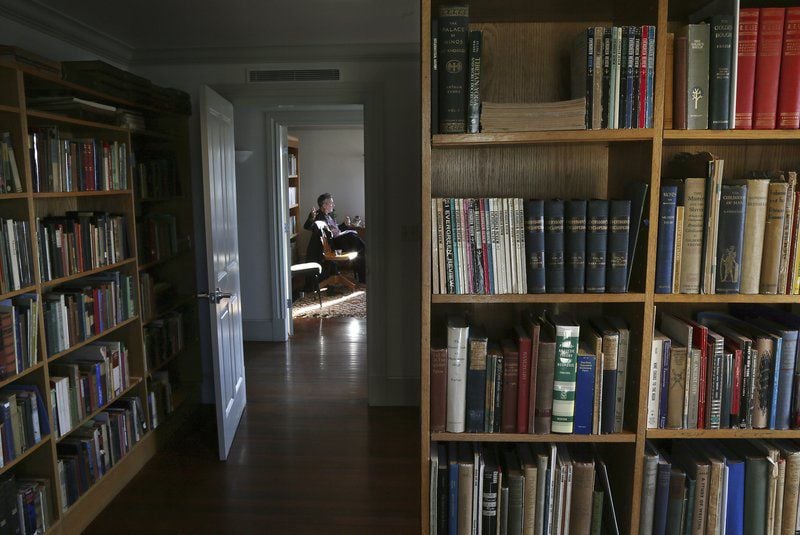 Above: the Charles Olson library, now in Gloucester (Photo by Mike Springer)
Ralph Maud, a world-renowned expert on the work of Dylan Thomas, Charles Olson, and the ethnographers of the Pacific Northwest, was professor emeritus at Simon Fraser University in Burnaby, British Columbia, and founder of the Charles Olson Literary Society. His impressive collection of books was recently bequeathed to the Gloucester Writers Centre in Gloucester, MA, in the United States, and the library is now open. To quote a recent article in the Gloucester Times,
American poet Charles Olson, a literary giant in the post-modern realm, amassed a personal library of enormous proportions.

The late Ralph Maud, an Olson scholar, recreated this radical poet's library and added more than 1,000 books Olson reviewed, read, or referred to in his writing. A bibliophile of mammoth proportions, Olson taught at diverse institutions, from Harvard University to the experimental Black Mountain College in North Carolina.

For the duration of Maud's life (1928–2014), the collection of more than 3,500 books was housed in Vancouver, Canada, nearly 3,500 miles away from Gloucester – the place Olson called home.

On his deathbed, Maud, a professor at Simon Fraser University, bequeathed his facsimile of Olson's library to the Gloucester Writers Center.
Olson (1910-1970) continues to be a source of literary exploration by scholars around the globe, and Maud's collection is more expansive than any other Olson collection, with its extensive notes and supplementary material, and because he enhanced it by including other sources related to Olson. This past weekend, the Writers Center celebrated the opening of the Maud/Olson Library, located at 108 East Main Street, with an open house.
Recent news Articles
Thursday March 8, 2018 in Meta-Talon
Book Recs for International Women's Day 2018
To celebrate International Women's Day, we asked our staff to recommend favourite Talon books that they felt contributed to the advancement of women and to the feminist literary canon.
Tuesday February 6, 2018 in Meta-Talon
"Argument is to me the air I breathe"
By Carl Peters
On Meta-Talon today, please enjoy the full text of the presentation given by Carl Peters at the Modern Languages Association convention in New York City on January 7, 2018. This talk responds to the question posed in the MLA convention session Rhetoric in Post-Factual Times: how to perform textual analysis in a time when facts are no longer the marker of good argumentation. (Peters's talk is also related to his work on Stein; Peters is recently the author of Studies in Description: Reading Gertrude Stein's Tender Buttons.)
Thursday December 21, 2017 in Meta-Talon
Our little end-of-year present to you is a miniature from M.A.C. Farrant's delightful collection of very short stories, The World Afloat. Happy Holidays from Talonbooks!
---
Our Spiritual Lives
We've seen stains on tea towels that look like Jesus Christ's face so we know he exists. And we know that dried seaweed can save the Douglas fir from extinction so we hang dried seaweed from the tree's branches.
Tuesday December 5, 2017 in Meta-Talon
A new cover for Drew Hayden Taylor's play, In a World Created by a Drunken God
A finalist for the 2006 Governor General's Literary Award for Drama, In a World Created by a Drunken God has been in steady demand since it was first published 11 years ago. From 2006 until the end of 2017, In a World Created by a Drunken God was in print with its original cover, which showed moving boxes and a flip phone. Now, Talonbooks has reprinted In a World Created by a Drunken God for the fourth time, and it wears a dynamic, new cover …
We gratefully acknowledge the financial support of the Canada Council for the Arts; the Government of Canada through the Canada Book Fund (CBF); and the Province of British Columbia through the British Columbia Arts Council for our publishing activities.
---
If you have any questions or comments about this website, contact the
webmaster.