Posted: Wednesday June 22, 2016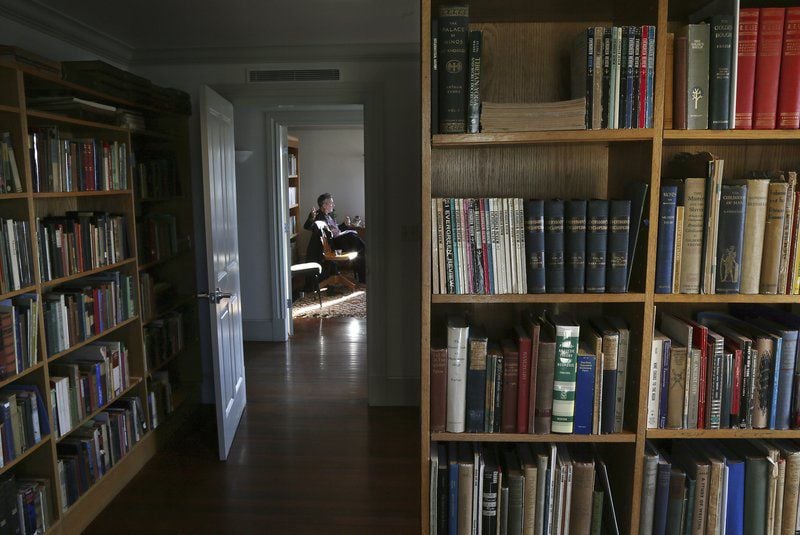 Above: the Charles Olson library, now in Gloucester (Photo by Mike Springer)
Ralph Maud, a world-renowned expert on the work of Dylan Thomas, Charles Olson, and the ethnographers of the Pacific Northwest, was professor emeritus at Simon Fraser University in Burnaby, British Columbia, and founder of the Charles Olson Literary Society. His impressive collection of books was recently bequeathed to the Gloucester Writers Centre in Gloucester, MA, in the United States, and the library is now open. To quote a recent article in the Gloucester Times,
American poet Charles Olson, a literary giant in the post-modern realm, amassed a personal library of enormous proportions.

The late Ralph Maud, an Olson scholar, recreated this radical poet's library and added more than 1,000 books Olson reviewed, read, or referred to in his writing. A bibliophile of mammoth proportions, Olson taught at diverse institutions, from Harvard University to the experimental Black Mountain College in North Carolina.

For the duration of Maud's life (1928–2014), the collection of more than 3,500 books was housed in Vancouver, Canada, nearly 3,500 miles away from Gloucester – the place Olson called home.

On his deathbed, Maud, a professor at Simon Fraser University, bequeathed his facsimile of Olson's library to the Gloucester Writers Center.
Olson (1910-1970) continues to be a source of literary exploration by scholars around the globe, and Maud's collection is more expansive than any other Olson collection, with its extensive notes and supplementary material, and because he enhanced it by including other sources related to Olson. This past weekend, the Writers Center celebrated the opening of the Maud/Olson Library, located at 108 East Main Street, with an open house.
Recent news Articles
Thursday March 23, 2017 in Meta-Talon
Critically acclaimed poet and Vancouver native Adeena Karasick was in her hometown last month to celebrate the donation of her archive to Simon Fraser University. The Collection of Contemporary Literature at SFU's Bennett Library contains one of the biggest selections of avant-garde poetry in North America.
Friday March 17, 2017 in Meta-Talon
In Which Caspar Tootsey Joins the Phantom Cavalry
All the main characters in this novel are invented, except one. All the towns are real, except for New Babylon. But if such a place were to be imagined, it would be a Wild West town where gunfights are fair play and the law bans only the lawman. It is a perilous place, where the beauty of the desert landscape takes your breath away with the same power as an open blade and a gash to the throat.
On that gruesome note, we hope you enjoy this teaser, lifted from pages 36–38 of In Search of New Babylon.
Thursday March 2, 2017 in Meta-Talon
Today is Annual Day: A Very Short Story
Today on Meta-Talon, please enjoy a very short story from M.A.C. Farrant's book The Days: Forecasts, Warnings, Advice.
Annual Day
Annual Day happens once a year and it is never good. This year the date is March 2.
Thursday February 23, 2017 in Meta-Talon
Book List: Migration and Multiculturalism
Migration – the movement of humans from one place to another with the intention of settling – has been top of mind in recent weeks given certain political changes and policy implementations in certain western countries, in recent months in response to the failure of state in Syria and the outflow of refugees from that region, and in recent years characterized by a heightened sensitivity to the possibility of east-west terrorist attacks. Perhaps Canada is a beacon to other states? Or perhaps we still have much learning to do? In the spirit of learning, we recommend twelve Talon books on the topic of migration, refugees, and the immigrant experience.
We gratefully acknowledge the financial support of the Canada Council for the Arts; the Government of Canada through the Canada Book Fund (CBF); and the Province of British Columbia through the British Columbia Arts Council for our publishing activities.
---
If you have any questions or comments about this website, contact the
webmaster.