Posted: Wednesday June 22, 2016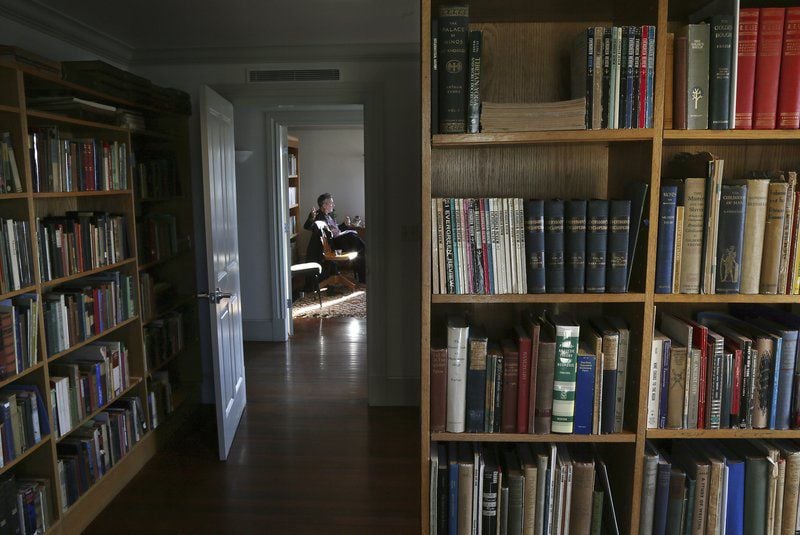 Above: the Charles Olson library, now in Gloucester (Photo by Mike Springer)
Ralph Maud, a world-renowned expert on the work of Dylan Thomas, Charles Olson, and the ethnographers of the Pacific Northwest, was professor emeritus at Simon Fraser University in Burnaby, British Columbia, and founder of the Charles Olson Literary Society. His impressive collection of books was recently bequeathed to the Gloucester Writers Centre in Gloucester, MA, in the United States, and the library is now open. To quote a recent article in the Gloucester Times,
American poet Charles Olson, a literary giant in the post-modern realm, amassed a personal library of enormous proportions.

The late Ralph Maud, an Olson scholar, recreated this radical poet's library and added more than 1,000 books Olson reviewed, read, or referred to in his writing. A bibliophile of mammoth proportions, Olson taught at diverse institutions, from Harvard University to the experimental Black Mountain College in North Carolina.

For the duration of Maud's life (1928–2014), the collection of more than 3,500 books was housed in Vancouver, Canada, nearly 3,500 miles away from Gloucester – the place Olson called home.

On his deathbed, Maud, a professor at Simon Fraser University, bequeathed his facsimile of Olson's library to the Gloucester Writers Center.
Olson (1910-1970) continues to be a source of literary exploration by scholars around the globe, and Maud's collection is more expansive than any other Olson collection, with its extensive notes and supplementary material, and because he enhanced it by including other sources related to Olson. This past weekend, the Writers Center celebrated the opening of the Maud/Olson Library, located at 108 East Main Street, with an open house.
Recent news Articles
Tuesday April 18, 2017 in Meta-Talon
"The result is not simple": Two Poems from Inspecting Nostalgia
By R. Kolewe
Inspecting Nostalgia is a new collection of poetry by R. Kolewe. This, his second collection, brings together found text and fragments of various writers' work with scraps from his own journals.
In this third week of National Poetry Month 2017, and in advance of Kolewe's Toronto launch on May 8, please enjoy two poems from the collection on Meta-Talon.
Thursday April 13, 2017 in Meta-Talon
An excerpt from "Reading Wordsworth in the Tar Sands" by Stephen Collis
Stephen Collis's latest collection of poetry is nominated for the 2017 George Ryga Award for Social Awareness in Literature. It rethinks the relationship between human beings and the natural world and searches for ways we can continue to resist. Today on Meta-Talon, we offer a section from "Reading Wordsworth in the Tar Sands," the second long poem in Once in Blockadia.
Monday April 10, 2017 in Meta-Talon
"REDress": A poem by Jónína Kirton, from An Honest Woman
For you, in solidarity, during this National Poetry Month, a poem from Jónína Kirton's new collection.
Thursday March 23, 2017 in Meta-Talon
Critically acclaimed poet and Vancouver native Adeena Karasick was in her hometown last month to celebrate the donation of her archive to Simon Fraser University. The Collection of Contemporary Literature at SFU's Bennett Library contains one of the biggest selections of avant-garde poetry in North America.
We gratefully acknowledge the financial support of the Canada Council for the Arts; the Government of Canada through the Canada Book Fund (CBF); and the Province of British Columbia through the British Columbia Arts Council for our publishing activities.
---
If you have any questions or comments about this website, contact the
webmaster.