Posted: Wednesday June 22, 2016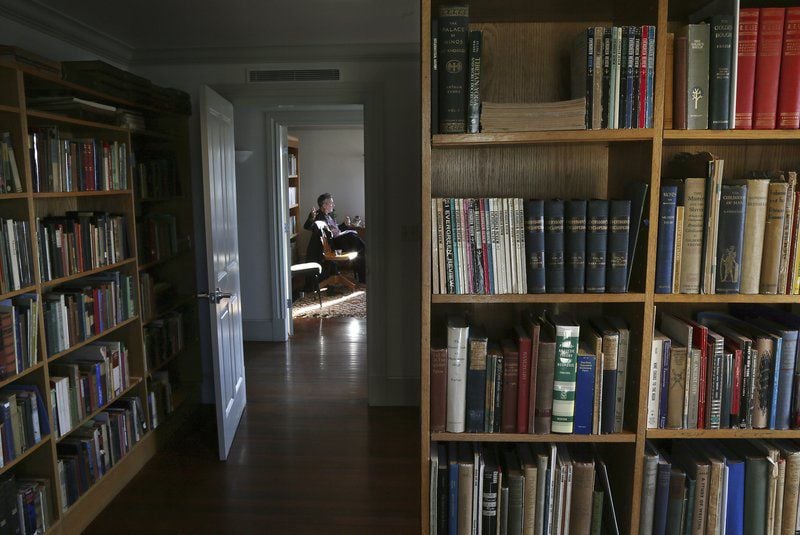 Above: the Charles Olson library, now in Gloucester (Photo by Mike Springer)
Ralph Maud, a world-renowned expert on the work of Dylan Thomas, Charles Olson, and the ethnographers of the Pacific Northwest, was professor emeritus at Simon Fraser University in Burnaby, British Columbia, and founder of the Charles Olson Literary Society. His impressive collection of books was recently bequeathed to the Gloucester Writers Centre in Gloucester, MA, in the United States, and the library is now open. To quote a recent article in the Gloucester Times,
American poet Charles Olson, a literary giant in the post-modern realm, amassed a personal library of enormous proportions.

The late Ralph Maud, an Olson scholar, recreated this radical poet's library and added more than 1,000 books Olson reviewed, read, or referred to in his writing. A bibliophile of mammoth proportions, Olson taught at diverse institutions, from Harvard University to the experimental Black Mountain College in North Carolina.

For the duration of Maud's life (1928–2014), the collection of more than 3,500 books was housed in Vancouver, Canada, nearly 3,500 miles away from Gloucester – the place Olson called home.

On his deathbed, Maud, a professor at Simon Fraser University, bequeathed his facsimile of Olson's library to the Gloucester Writers Center.
Olson (1910-1970) continues to be a source of literary exploration by scholars around the globe, and Maud's collection is more expansive than any other Olson collection, with its extensive notes and supplementary material, and because he enhanced it by including other sources related to Olson. This past weekend, the Writers Center celebrated the opening of the Maud/Olson Library, located at 108 East Main Street, with an open house.
Recent news Articles
Thursday February 23, 2017 in Meta-Talon
Book List: Migration and Multiculturalism
Migration – the movement of humans from one place to another with the intention of settling – has been top of mind in recent weeks given certain political changes and policy implementations in certain western countries, in recent months in response to the failure of state in Syria and the outflow of refugees from that region, and in recent years characterized by a heightened sensitivity to the possibility of east-west terrorist attacks. Perhaps Canada is a beacon to other states? Or perhaps we still have much learning to do? In the spirit of learning, we recommend twelve Talon books on the topic of migration, refugees, and the immigrant experience.
Thursday February 9, 2017 in Meta-Talon
A new cover for our sweetest play – right on time for Valentine's Day
From 1988 until the end of 2016, Salt-Water Moon was in print with its original yellow cover, which featured now-outdated type design and a production still from one of the original productions of this sweet play. Now, as the play experiences something of a revival, and as the book goes into its eighth printing, we are pleased to show off the newly redesigned cover of Salt-Water Moon.
Thursday February 2, 2017 in Meta-Talon
A Cubist Meditation on the Modern Condition
By Carl Peters
On Meta-Talon today, please enjoy the full text of the presentation given by Carl Peters, recently the author of Studies in Description, to an audience of about 100 attendees at the Modern Languages Association convention in Philadelphia, PA, on January 7, 2017.
---
Look, I realize that my abstract is more than an abstract but what follows is just a small part of what I could do. I'm going to talk around Hemingway's greatest achievement, "A Clean, Well-Lighted Place," presenting my comments as a Cubist meditation on the Modern Condition (with reference to Duchamp and some others)…
Thursday January 19, 2017 in Meta-Talon
Read scenes from Empire of the Son
Empire of the Son is the story of two generations of CBC broadcasters and the radio silence between them. It premiered in Vancouver in 2016 and was nominated for six Jessie Richardson Awards, and Tetsuro Shigematsu is currently touring Empire of the Son across Canada. Empire of the Son is also the first Talon book to be published in the Spring 2017 season – it's now available! – and we invite you to read brief but tantalizing excerpts on Meta-Talon.
We gratefully acknowledge the financial support of the Canada Council for the Arts; the Government of Canada through the Canada Book Fund (CBF); and the Province of British Columbia through the British Columbia Arts Council for our publishing activities.
---
If you have any questions or comments about this website, contact the
webmaster.