Posted: Wednesday June 22, 2016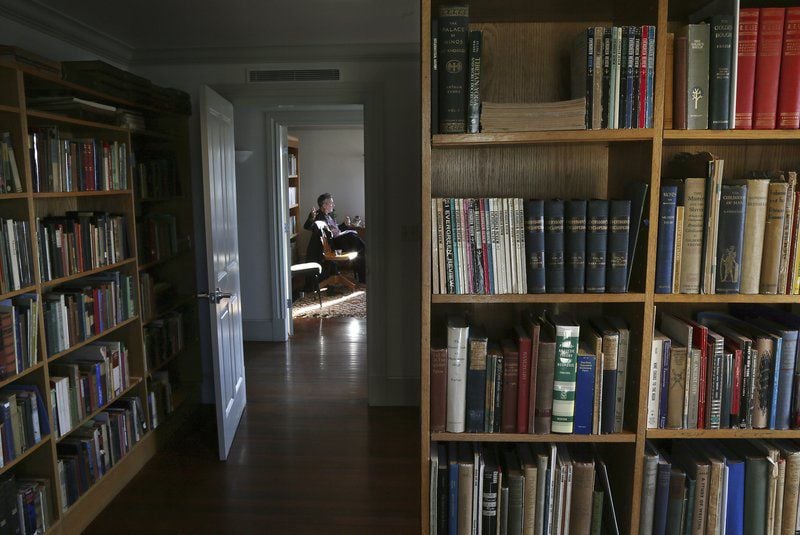 Above: the Charles Olson library, now in Gloucester (Photo by Mike Springer)
Ralph Maud, a world-renowned expert on the work of Dylan Thomas, Charles Olson, and the ethnographers of the Pacific Northwest, was professor emeritus at Simon Fraser University in Burnaby, British Columbia, and founder of the Charles Olson Literary Society. His impressive collection of books was recently bequeathed to the Gloucester Writers Centre in Gloucester, MA, in the United States, and the library is now open. To quote a recent article in the Gloucester Times,
American poet Charles Olson, a literary giant in the post-modern realm, amassed a personal library of enormous proportions.

The late Ralph Maud, an Olson scholar, recreated this radical poet's library and added more than 1,000 books Olson reviewed, read, or referred to in his writing. A bibliophile of mammoth proportions, Olson taught at diverse institutions, from Harvard University to the experimental Black Mountain College in North Carolina.

For the duration of Maud's life (1928–2014), the collection of more than 3,500 books was housed in Vancouver, Canada, nearly 3,500 miles away from Gloucester – the place Olson called home.

On his deathbed, Maud, a professor at Simon Fraser University, bequeathed his facsimile of Olson's library to the Gloucester Writers Center.
Olson (1910-1970) continues to be a source of literary exploration by scholars around the globe, and Maud's collection is more expansive than any other Olson collection, with its extensive notes and supplementary material, and because he enhanced it by including other sources related to Olson. This past weekend, the Writers Center celebrated the opening of the Maud/Olson Library, located at 108 East Main Street, with an open house.
Recent news Articles
Tuesday December 5, 2017 in Meta-Talon
A new cover for Drew Hayden Taylor's play, In a World Created by a Drunken God
From 1988 until the end of 2016, Salt-Water Moon was in print with its original yellow cover, which featured now-outdated type design and a production still from one of the original productions of this sweet play. Now, as the play experiences something of a revival, and as the book goes into its eighth printing, we are pleased to show off the newly redesigned cover of Salt-Water Moon.
Tuesday September 26, 2017 in Meta-Talon
Read an excerpt: From Oral to Written
From Oral to Written is a study of Native literature published in Canada between 1980 and 2010, a catalogue of amazing books that sparked the embers of a dormant voice. Leading Aboriginal author Tomson Highway surveys the first wave of Native writers published in Canada, highlighting the most gifted authors and the best stories they have told, offering non-Native readers access to reconciliation and understanding, and at the same time engendering among Native readers pride in a stellar body of work. On Meta-Talon, read a selection from Highway's prologue.
Thursday August 10, 2017 in Meta-Talon
Buy a Quebec Book Day! August 12
August 12 is Buy a Quebec Book Day – and have we got books for you! Browse our list of 12 august and recently published Quebec books – any of which we would, of course, recommend. Read the list, and then get out to your local bookstore this Saturday and show la belle province some literary love!
Friday June 23, 2017 in Meta-Talon
Listen: Nancy Shaw reads her poems
The Gorge: Selected Writing by Nancy Shaw launched in April, 2017 at the Western Front in Vancouver. To launch Shaw's book, published posthumously, editor Catriona Strang read from The Gorge, and then this video was played to a rapt audience. In the video, you'll hear the voice of Nancy Shaw, reading poems from her book Cold Trip (2006; co-authored with Catriona Strang).
We gratefully acknowledge the financial support of the Canada Council for the Arts; the Government of Canada through the Canada Book Fund (CBF); and the Province of British Columbia through the British Columbia Arts Council for our publishing activities.
---
If you have any questions or comments about this website, contact the
webmaster.