Posted: Wednesday February 15, 2017
The 2017 George Ryga Award for Social Awareness has published its long list of nominated titles, and we are so pleased to see Stephen Collis's latest collection of poetry is one of ten excellent books on the list! Called by Eden Robinson "the most dangerous poet in Canada," in Once in Blockadia Collis is in search of how we can continue to resist – as we only begin to understand the extent of our complicity and the depths of the predicament we are in.
For a complete list or recipients, visit bcbookawards.ca. A shortlist will appear in the Spring issue of BC BookWorld.
Posted: Friday February 10, 2017

Above: Bev Sellars and Bill Wilson with indigenous students at Sauder School of Business, UBC. Photo courtesy Elizabeth Bowker
Bev Sellars and Bill Wilson spoke at the Sauder School of Business on January 31 about their new book, Price Paid: The Fight for First Nations Survival.
After Sellars's talk at UBC, the indigenous studients quietly waited for Bev Sellars and Bill Wilson to come out of the lecture hall after everyone else had left. They then spoke with Bev and Bill and had a group photo taken. Elizabeth Bowker, the Sauder School law and business communications lecturer who arranged for Sellars's visit, sent us a note of thanks: "I have no words to say how great they were. We are so grateful."
We are grateful, too, Ms. Bowker, that the business students learned something about the history of Canada and appreciated the aboriginal perspective. Thank you for inviting Bev!
Posted: Tuesday February 7, 2017
filling Station presents the flywheel reading series, featuring Daphne Marlatt, Colin Martin, M.A.C. Farrant, and Mallory Smith!
Thursday, February 9
7:30 PM
Pages Books (in Kensington)
Calgary, Alberta
Posted: Monday January 30, 2017
Each year the University of Toronto appoints a Canadian writer to work with students, faculty, and staff interested in creative writing. The appointment process is internal; no external applications are considered or acknowledged. From January to April, the Writer-in-Residence offers a seminar on creative writing and holds office hours for consultations on writing. The Jack McClelland Writer-in-Residence Program is housed at Massey College and is jointly sponsored by Massey and the Department of English.
This term, Sachiko Murakami will offer a non-credit creative writing seminar on poetry in the "S" term on Wednesdays, 6–8 p.m., at Massey College. The course is by application and can accommodate no more than 15 participants. The seminar is open to everyone who is currently part of the University of Toronto community – faculty, students, and staff.
Her office hours are 2:00-4:00 p.m. on Wednesdays at House V, Room 6, Massey College, as of the week of January 16.
Posted: Tuesday January 24, 2017
One Yellow Rabbit's 31st High Performance Rodeo presents Winners and Losers, written and performed by Marcus Youssef and James Long.
January 25–28, 2017
West Village Theatre
2007 10 Ave SW
Calgary, Alberta
Tickets and info available here.
Posted: Friday January 20, 2017
Gulf Islands poetry readers, this is your weekend! Join poet Stephen Collis and scientist Lynne Quarmby for an interactive evening on The Art & Science of Climate Change at The Roxy (at Twin Beaches Mall) on Gabriola Island, British Columbia, tomorrow evening at 7:30 PM. This is the Trans-Mountain Pipeline–resistance dream team, and they bring their diverse perspectives to bear on the problem of climate change and the possibilities for climate justice. RSVP on Facebook, if you like.
Posted: Monday January 16, 2017
The Simon Fraser University English Department presents the 2017 Ellen and Warren Tallman Writer in Residence at Simon Fraser University, Cecily Nicholson. Nicholson is the administrator of the artist-run centre Gallery Gachet and has worked since 2000 in the downtown eastside neighbourhood of Vancouver, on Musqueam, Squamish and Tsleil-Waututh territories. She belongs to the Joint Effort prison abolitionist group and is a member of the Research Ethics Board for Emily Carr University. Cecily is the author of Triage and From the Poplars (both published by Talonbooks); the latter was winner of the 2015 Dorothy Livesay prize for poetry. Join Nicholson for a reading and reception this Thursday, January 19 at SFU Harbour Centre (downtown Vancouver campus), 7:30 PM.
Posted: Wednesday January 11, 2017
Danielle LaFrance and Anahita Jamali Rad will read as part of the Flywheel Reading Series on Thursday, January 12 (tomorrow!), at 7:30 PM. The series is hosted by Pages Books (1135 Kensington Road NW). Don't miss it.
Posted: Friday January 6, 2017
Our newest arrival is Colin Browne's Entering Time: The Fungus Man Platters of Charles Edenshaw, an extended, often poetic, meditation on the three argillite platters crafted in the late nineteenth century. In this new and truly beautiful book, Browne ranges through the fields of art history, literature, ethnology, and oral history to discover a parallel history of modernism within one of the world's most subtle and sophisticated artistic and literary cultures. Read selections from Entering Time on Meta-Talon, and order your copy for $19.95.
Posted: Wednesday January 4, 2017
This year's Modern Languages Association convention will be held in Philadelphia this coming weekend. Carl Peters, lately the author of Studies in Description, will speak in session #615, "Hemingway and Imagism: Ezra Pound, William Carlos Williams, H.D., and Modernism," on the afternoon of January 7. Details here.
Posted: Tuesday December 20, 2016
Well, the end of 2016 is finally in sight. What a year it has been! We can't help but laugh when our colleagues refer to 2016 as a dumpster fire of a year, for there have been many crises indeed – and yet there have also been victories, though one has to look for them. In the spirit of hope for the future, and in the enjoyment of a jolly period of rest before we jump back in for another round, we wish you a merry season!
Our gift to you: the above snap of Talon office pup, Mocha, looking shell-shocked while having her photograph taken with Santa Claus a week or two ago (taken on Pender Island, British Columbia).
Please also note that the Talonbooks office will be closed from December 24, 2016, through January 2, 2017.
Posted: Wednesday December 14, 2016
Itching to read some new, independent, Canadian drama? Whether you're in the mood for a new translation of a Quebecois classic, a contemporary look at the film and theatre industries, a touching family story, an exploration of grief and mortality, or an avant-garde and multi-layered performance piece, we've got you covered.
Plays newly available include False Starts by Louis Patrick Leroux, translated by the playwright, Alexander St-Laurent, and Katia Grubisic; In a Blue Moon by Lucia Frangione; The Envelope by Vittorio Rossi; Yours Forever, Marie-Lou by Michel Tremblay, translated by Sheila Fischman; and You Will Remember Me by François Archambault, translated by Bobby Theodore.
If you order from this website (or by phone) by December 15, and you're in Canada, you'll have books in time for Christmas!
Posted: Monday November 14, 2016
Réparer les vivants, the film based on Maylis de Kerangal's riveting novel, Mend the Living, opened in French cinemas last week. Watch the trailer below:
Mend the Living was translated into English by Jessica Moore and was long-listed for the Man Booker International Prize in 2016.
Posted: Wednesday November 2, 2016
Join Louis Patrick Leroux next Tuesday evening for the launch of False Starts, a new and unique play just published by Talonbooks, as well as the newly published French edition of his previous book, Ludwig and Mae.
Tuesday, November 8, 2016
5 p.m. (NOT 6 p.m. as previously advertised)
Librairie le Port de tête (bookstore)
262 Avenue du Mont-Royal E
Montreal, Quebec
Posted: Monday October 31, 2016
Returning after an extended and completely sold out run, Empire of the Son, written by and starring Tetsuro Shigematsu (former host of CBC Radio One's The Roundup), is the story of two generations of CBC broadcasters and the radio silence between them. Shigematsu's one-man show is this week's feature story in the Georgia Straight. (Look for Tetsuro on the cover, dapper as ever.)

Photos: Georgia Straight
Mounted by Vancouver Asian Canadian Theatre (Vancouver), the show runs November 1 through 13, 2016 at the Vancity Culture Lab (The Cultch – 1895 Venables Street) in Vancouver, British Columbia. Tickets and more info available here.
Empire of the Son will be published by Talonbooks in Spring 2017, but early birds who attend this production will have access to books in advance!
Posted: Wednesday October 26, 2016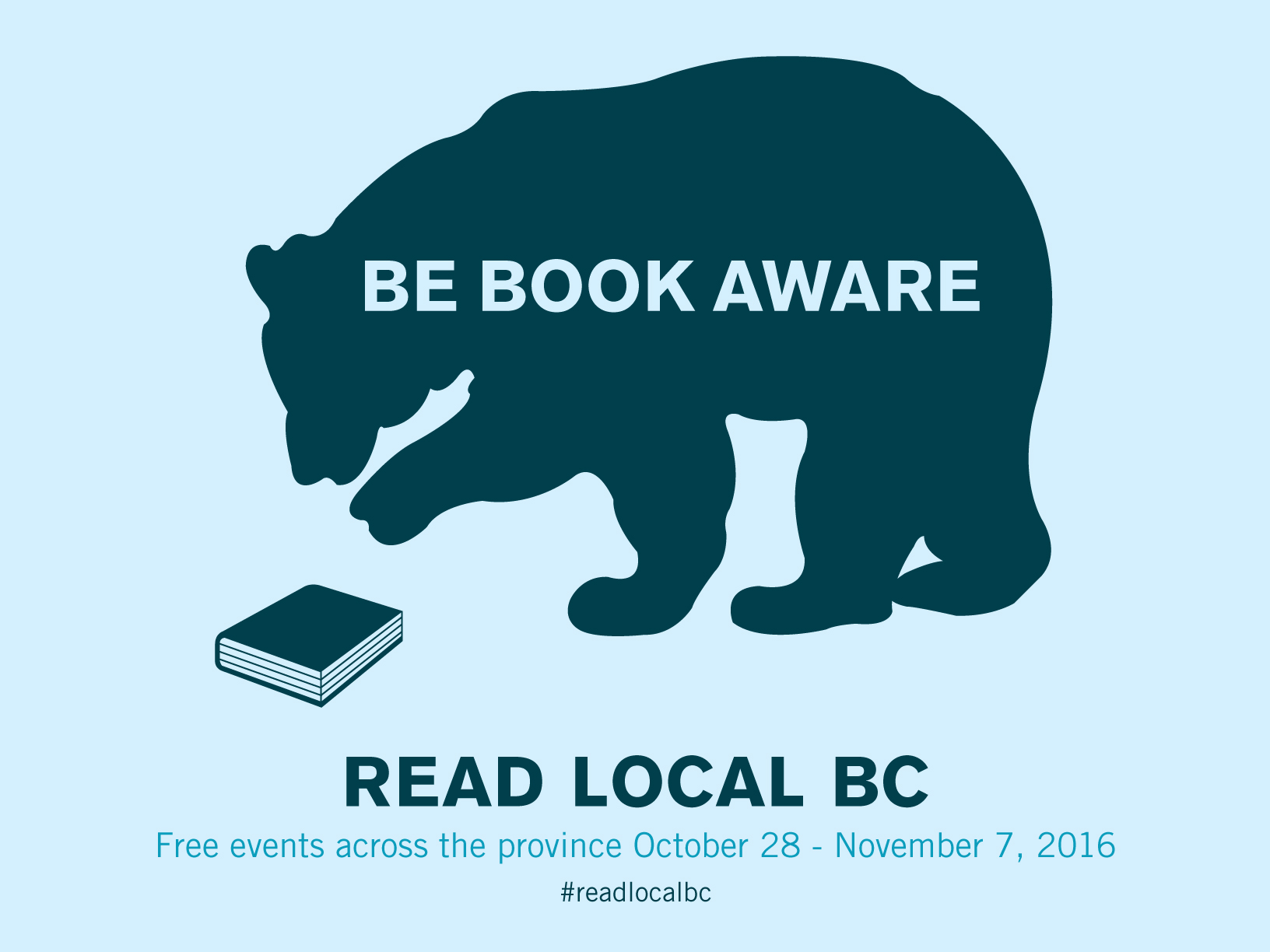 From October 28 through November 7, 2016, readers across British Columbia can discover locally published books and meet authors resident in their communities through a range of activities in bookstores and libraries throughout the province. Here is a list of Read Local events. You might wish to add these to your calendars!
Posted: Tuesday October 25, 2016
This past Sunday, poetry lovers spent an intimate and interactive afternoon with poets Fred Wah and Colin Browne at the Vancouver Writers' Festival. The house was nearly full, and Wah read a number of poems from his collected earlier poems, Scree, before diving into conversation with Browne. Composition was the thread of the conversation, and the audience gained insight into Wah's poetic practises and approaches to poetry.
Posted: Monday October 24, 2016

Some of the crowd mills about, drinking wine and selecting from seven different types of cheese
From the long-awaited Slick Reckoning by Ken Belford and the caustic and playful poetics and prose of Friendly Fire by Danielle LaFrance, to 1970s Vancouver in Meredith Quartermain's novel, U Girl, Talon was honoured to launch seven all-star books this fall. We convened on Oct. 20 at the legendary Pyatt Hall at the Vancouver School of Music for an evening of snacks, beverages, books, and many laughs. Click on "Go to story" for photos!
Posted: Wednesday October 19, 2016
Join us tomorrow evening, Thursday, October 20, 2016, for the launch of six books in one night:
Poetry!
Prose!
Shazia Hafiz Ramji hosts the event, which takes place at Pyatt Hall (Vancouver School of Music) at 843 Seymour Street. Refreshments and drinks will be served between 7:30 and 8 PM, when readings begin. Our friends from The Paper Hound Bookshop will be selling books new and old, and authors will be available for signing.
Also find this event on Facebook, if you wish. All are welcome; no admission fee.
See you tomorrow!
Posted: Friday October 14, 2016
People of Victoria, British Columbia (shall we call you Victorians?), thanks for coming out last evening for the launch of The Days: Forecasts, Warnings, Advice ($14.95) by M.A.C. Farrant at Munro's! The large turnout was much appreciated, and the evening went very well. Cheers!
Above: Author M.A.C. Farrant at last night's launch
Posted: Wednesday October 12, 2016
Munro's presents a magical evening with M.A.C. Farrant, Bill Stenson, and Patricia Young on Thursday, October 13 (TOMORROW! 7 p.m. PST) at Munro's Books in downtown Victoria, British Columbia. Farrant will launch her latest collection of miniature fiction, The Days: Forecasts, Warnings, Advice ($14.95); books will be available for sale and signing. Don't miss this sure-to-be-delightful evening if you're on the island!
Posted: Wednesday October 5, 2016
Hark, easterners! Talon poet Phinder Dulai travels to the eastern seaboard for readings and literary events from October 6th through 16th:
October 6–9, 2016
NEW YORK CITY, NEW YORK
Dulai will be a guest author at the Indo-American Arts Council's 3rd Annual Literary Festival, which will be held at New York University's Kimmel Center in Washington Square Park, NYC. Find details about this event online.
October 10–13
MONTREAL, QUEBEC
Dulai will read poems and present visuals from his poetry collection, dream / arteries to students and friends of the written word at Concordia University as part of the WritersRead 2016–2017 series. The lineup this season will feature an exemplary list of writers including poetry icon and American poet Claudine Rankine. This trip to Montreal is especially symbolic to Dulai, as the SS Stubbenhuk and Sicilia (later to be known as the Komagata Maru) brought many new migrants to Canada from the Old World of Europe. Find this event on Facebook.
October 13–6
SAINT CATHERINES, ONTARIO
Dulai attends The Concept of Vancouver conference in Saint Catherines, participating and convening a workshop. In Dulai's words, "such a conference thematic has potential for a robust conversation on the trajectories of what the concept of Vancouver was as a vision of a New City in the Empire."
Posted: Tuesday October 4, 2016
Congratulations to poet Garry Thomas Morse, whose latest collection Prairie Harbour has been short-listed for the 2016 Governor General's Award for Poetry. Winners will be announced on October 25.
Posted: Monday October 3, 2016
Daphne Marlatt's new collection, Reading Sveva ($19.95), was our first Fall 2016 book of poetry to come back from the printer, in time for WORD Vancouver. And does it ever look beautiful! Marlatt's poems respond to the works of the late painter Sveva Caetani, whose paintings are reproduced in full colour in this book, beautifully illuminating the poetry.
Stephen Collis's Once in Blockadia ($18.95) came next, also in time for WORD. Collis was recently interviewed about this book and his activist work in Burnaby Now: "When pipeline politics meet poetry," and he launches the book at a couple of upcoming Vancouver events.
In Slick Reckoning ($16.95), Ken Belford writes through and beyond his experience of cancer, building thoughtful yet playful poems that the curious reader can open anywhere, read, and read on.
We are also pleased to welcome Danielle LaFrance to the Talon poetry list. Her new book, Friendly Fire, interrogates the male subjective experience of war and "brotherhood." Order your copy of Friendly Fire today for $18.95.
Finally, we welcome Anahita Jamali Rad. Her debut collection, for love and autonomy, explores radical resistance in language. It is now available for $16.95.
Join four out of five of these poets (Belford is not able to attend) on October 20 in Vancouver for our big fall launch!
Posted: Friday September 30, 2016
Are you a bookseller from the Pacific Northwest? If so, come on down and meet us at this year's Pacific Northwest Booksellers Association trade show! Talon's co-owners and publishers, Kevin and Vicki Williams, will be at the Talon booth waiting to say hello. They'll have all our new books – and some classics – in tow, and you are invited to stop by. The show begins today, running Friday through Sunday at Hotel Murano in Tacoma, Washington.